The following is a post by Kari Patterson of Sacred Mundane.
One simple schedule-switch worked wonders for us.
One of the main reasons we homeschool is to have the freedom and flexibility to "go with" what life brings and what needs and situations present themselves, so we're far from rigid. But though it's fluid, we definitely have our daily routine, and I love it.
Except when I don't love it because I hate it.
I mean this: For me there was this particular time of day I hated. Almost always. The time when we transitioned from our morning routine (chores, breakfast, etc. ) into formal learning, namely MATH.  It seemed that every book I read said, "Do math first thing in the morning, when children's minds are fresh."
Bright-eyed and bushy-tailed, right?

But every day, even though I knew my son knew the material, we would struggle. He would space off. Blank-stare for ten minutes at the simplest subtraction problems I knew he knew. I would push. He would cry.
Some would say, "Don't worry about it! Just let him study what he loves." If the subject were something peripheral perhaps I wouldn't mind. But math matters! Some would say, "It's the curriculum!  Get a new curriculum." Certainly there are times to switch approaches altogether (and I may at some point), but I liked our curriculum.
So I did what many a desperate mom has done before me. 
Prayed!
And then something rather obvious occurred to me:
My son is not a morning person.
So why were we doing our most focused (and most challenging) material first thing, groggy-eyed and grumpy-tailed?
Then I did something else many a desperate mom has done before me.
Googled.
And interestingly, there is some research finding that time of day does greatly impact certain students' ability to learn. And isn't one of the benefits of homeschooling the ability to cater curriculum to each child's needs?
Now, for those of us early-risers whose usual answer to everything is work harder, get up earlier, quit complaining, it can feel like a cop-out or really excessive catering to a child's every whim. I didn't want to do that. The world doesn't revolve around whether or not you're cheerful before 8 a.m.
But I most certainly wasn't cheerful after waging the math-war each morning, so it was worth a try.
To my surprise, it worked.
When I suggested afternoon-school to my son, his eyes widened, incredulous. It seemed too good to be true. "You mean, in the morning I get to play?"
"Yes, after your chores you can read and play. We'll do math after lunch."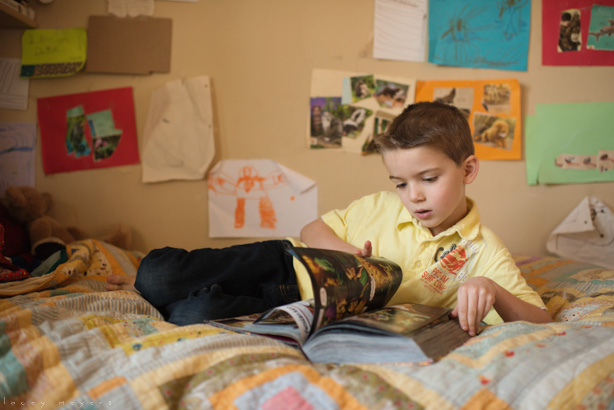 To my delight he spent his mornings doing what kids do best — learning as they play. He read encyclopedias and whole novels in one sitting, played outside with sticks and rocks and imagined worlds at war. He did his own thing, mostly ignoring me. (Read: my house got clean!) Then after lunch, when he was full of fun and food, I brought out the math book.
He did his lesson in record time. Not just once, but over and over. Now, I'm not saying it's perfect, but way fewer blank stares, way fewer frustrations, way fewer tears.
All this to say, as you pencil in your schedule for the coming school-year, consider circadian rhythms.
It might just take a slight schedule-switch to work wonders for your struggling student … and you.
Your turn: How have you found schedule and/or time of day influences your homeschool?  What adjustments are you making to your schedule for next year? Thanks for reading.