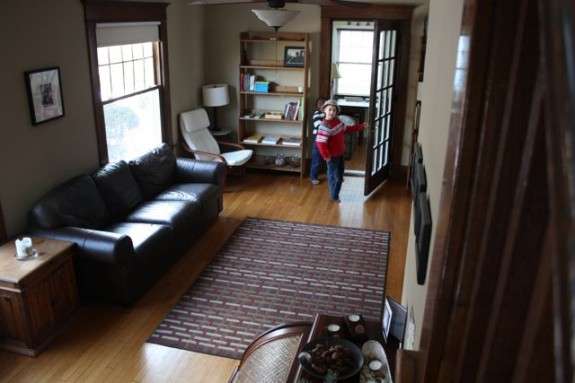 Written by Jamie Martin, editor of Simple Homeschool and founder of Steady Mom
Are you enjoying this series on homeschool days as much as I am? There's something quite vulnerable about getting to peek behind the curtain of another mom's living room and see how she keeps all her plates spinning.
One word of caution, however: Don't you dare leave any of these posts in a comparison mode, thinking, "She does so much more than me–now I know I'm screwing my kids up!" Do what you know is right for your own children–that is all they need.
You won't feel the need to worry about "more" when it comes to my family's rhythm–I don't do it all, I purposefully take it slow, and I focus my days on enjoying my children.
My family is unique in that there are only 22 months separating all three of my kids in age, and even less separating them developmentally. I also work 15 hours a week blogging both here and at Steady Mom, so our rhythm takes into account Mommy's writing time.
I believe my main goal should be to nurture the relationships in our home. When relationships flourish, I find that the academic side of learning naturally springs forth in an unforced way.
Here's what that looks like practically.

I typically wake up at 6:45 am on a weekday. I've written extensively on Steady Mom about my morning routine and what we do before our day officially begins, so head over to read that if you're interested.
At 8:20, my kids come out of their rooms to get dressed. Does 8:20 sound specific enough for you? No, I'm not a scheduling nazi–but my six-year-old has a clock in his room and takes it upon himself to announce dramatically at 8:20 – "It's TIME!!!!" That's how I know it happens at 8:20, you see.
Early Morning
The kids play while I tidy upstairs, then I help everyone get dressed. We head downstairs, where we have our circle time, then it's on to the breakfast table. After a quick meal the kids clean up with me.
It's been too cold lately to do our usual morning walk, so we typically meet again in the living room for a few minutes of music and movement.
Learning Time
By now it's 9am, and we begin what I consider our "learning time."
The kids pick out a few books they want me to read, or sometimes I'll have a selection chosen beforehand. We sit on the couch and read together, then move to the dining table where we do one or two of our Oak Meadow Kindergarten activities. (I intentionally start academics later and follow a better late than early philosophy, which has enabled me to more or less keep all the kids at the same level.)
After this it's time for what my kids call sections–I can't really remember how it got this name, but don't try to call it anything else in our house or the kids will come after you! This time is loosely based on the idea of "centers" in a preschool–my kids rotate spending 15-20 minutes playing in different areas of our house.
The idea, from my point of view, is to follow the leadership education philosophy of structuring time, not content. It gives me the chance to make the most of one-on-one learning opportunities.
Often my older two will work on a story or project and need help spelling words. Sometimes my six-year-old son gives me a math lesson. (Yes, you read that right.) There's also plenty of Legos, artwork, playing, and drumming that happens as well. During this time I work on laundry, meal prep, or other house organization/cleaning I can do while still being available to the kids.
Early Afternoon
After sections, it's usually close to noon–time for lunch, then the frigid outdoors for a quick walk and playing in the backyard.
When we come inside, I put on a DVD for the kids while I work and write upstairs (for about 45 minutes). When the video is over, it's rest time–where the kids play quietly (at least it's supposed to be quietly!), read, draw, and rest for an hour and a half. During this time in our day I'll do more computer work and also try to rest or read for 30 minutes myself (Mama recharge time).
Late Afternoon
When rest time ends, it's already 4 or 4:30 pm. Trishna, Jonathan, and Elijah play while I put away the laundry I folded in the morning. We head back downstairs where I give the kids a quick snack and we read a chapter of our current read-aloud. (Right now, it's The Burgess Bird Book for Children–highly recommended!)
Then it's around 5pm–time to start dinner. One of Trishna's current household duties is dinner helper, so she comes to the kitchen with me while the boys play for a while (until they start arguing–yes, this is a real home I'm talking about!).
At that point I put on another short DVD for them while I finish dinner.
Evening
After dinner comes the usual: clean up, family time, baths, and bedtime for the kids (around 8 pm).
I usually tidy the downstairs quickly, work a bit more online, and try to unplug around 8:30 (emphasis on the try). Then I spend time with my husband, take a shower, and happily head to bed (I aim for 10 pm, but it's been more like 10:30 lately).
Variations on the Day
This routine varies on certain days. At least once a week we go on some type of outing–to the library, a museum, or maybe for a walk in the woods.
One day a week I have a sitter in the mornings, so she follows our general rhythm with the kids at home while I head out to write. And of course we also enjoy the flexibility to change things up, so we can meet with friends or ditch the plan for the unexpected.
The Secret of a Good Day
If there's one thing I've learned over the years, it's that the secret of a good day is … me. I try to keep in mind this quote by German writer Johann Wolfgang von Goethe:
"I have come to the frightening conclusion that I am the decisive element. It is my personal approach that creates the climate. It is my daily mood that makes the weather. I possess tremendous power to make life miserable or joyous.

I can be a tool of torture or an instrument of inspiration, I can humiliate or humor, hurt or heal. In all situations, it is my response that decides whether a crisis is escalated or de-escalated, and a person is humanized or de-humanized.

If we treat people as they are, we make them worse. If we treat people as they ought to be, we help them become what they are capable of becoming."
Have any questions about our day? Ask away in the comments and I'll do my best to answer.