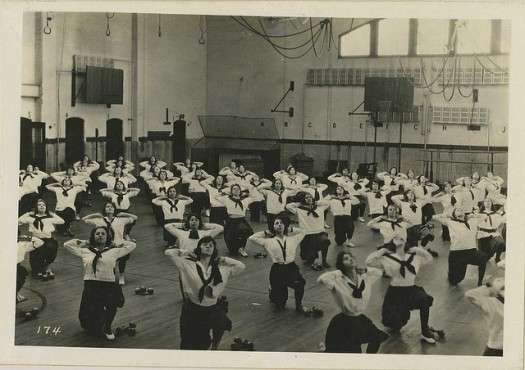 Physical Education for Homeschooled Teens~
Written by contributor Sarah Small of SmallWorld at Home
P.E., physical education, gym: whatever you called it, all of us public schoolers did it.
Some of us dreaded it; some of us considered it the best part of the day. If you had to wear one-piece gym suits that zipped up the front, well, I'm laughing (and blushing) right along with you.
So how do homeschoolers handle PE? I am surprised at the number of people who ask me "Does [swimming, hiking, gymnastics, dancing] count as PE?" Of course! If your child is getting exercise, he is engaged in PE.
For most younger children, the need to move is innate.
What kid doesn't want to climb the perfect tree or beg to go to the park? How many times have you heard yourself admonish your little kids to be still for a few minutes—to stop rolling around on the ground?
But as these same wiggly children enter the teen years, they would likely rather be on Facebook than running around outside.
While the inclination for physical activity is built into us, we have to be deliberate about providing opportunities for PE, especially as our kids get older.

For some families this is easy, particularly if your kids are part of an organized sports team. It may seem like every kid in the U.S. participates in a competitive sport, but that is simply not the case. For the rest of us a combination of creativity and diligence will ensure that you incorporate PE into your homeschool. (I encourage parents to take part in the family's PE time, too!)
Ideas for Physical Education for Homeschooled Teens
Playground/backyard games. When my oldest was 10, I realized that he had no idea how to play kickball. We began playing some traditional PE class games: kickball, whiffle ball, badminton, hopscotch, jump rope, Frisbee, even tag. Can't remember rules? Check out Games Kids Play for a list of hundreds of such games. Some are tricky with just a parent and child, but homeschoolers are all about flexibility, right?
Home Workout: Put together a list of cardio and strength training exercises and go through these 2-3 times/week. Do an internet search for "home cardio training" and you will get all kinds of ideas, like this great list. Choose 10 or so exercises and do them three times each. You don't have to be a fitness instructor to put together a plan!
Couch to 5K. This is a fantastic running program for parents and kids to do together. If you stick with the program, you and your kids will be able to run a 5K within 10 weeks. Before you say "I hate running!" take a look at the Couch to 5K website. As a former running-hater, I can assure you that you can do this!
Walking: Going outside for a 15-minute walk is probably the easiest form of exercise. Why do we not all do this every day? Walks are a terrific way to clear one's head in the middle of a tough algebra day, too!
Biking: Send your kids outside for a bike break in the middle of the school day—a 15-minute bike ride is a great way to get some focus.  When you have more time and a way to transport your bikes if necessary, plan an afternoon's excursion once a month or so. Lots of cities have fantastic bike trails. Check out Rails to Trails to see what's near you.
Health club membership: Obviously the most pricey option, but if you can swing this, teens will love it. Look for a family friendly center. Our club allows kids 10 and up to participate in everything except for the weight machines. Another option might be your city's Parks and Rec program or YMCA, both of which often offer a variety of opportunities.
Individual sports: Our society focuses a lot on team sports and not so much on individual sports, like golf, tennis, fencing, swimming, figure skating, skiing, etc. Try a semester's worth of lessons to see if your child enjoys one of these sports or just for the experience of trying something new.
Workout videos, Wii games, etc.: Purchase a couple of workout videos and do them together once or twice each week. There are hundreds of options. And don't forget about Wii games like Wii Fit, Wii Sports, and all the dancing games.
Hiking: I realize that not everyone has a national park practically in the backyard, but all the cities I've lived in had a hiking option within an hour's drive. You don't need to have the right boots to hike; just put on a pair of tennis shoes, grab a water bottle, and get out there!
Physical Education Tips
Keep track of your exercising. Check out the President's Challenge, a free program that encourages being active and eating healthy.
Every state has its own requirements for physical education for high school. We easily meet our state's requirement, but our goal is to make PE a regular part of our lives, not just a short-term program to meet a requirement.
Make PE intentional. Plan out a schedule for the week so that you and your kids are doing at least 30 minutes, 4 days per week.
Keep plenty of variety in your PE. Kids get bored with the same thing, and so do parents.
How do you incorporate PE into your homeschool? Do you find this challenging as your kids get older?
What's Your Homeschool Mom Personality? Take Jamie's quiz now and receive a free personality report to help you organize your homeschool based on what your personality type needs most!