60 TV shows recommended for ages 8-12 ~
Jamie Martin, editor of Simple Homeschool, also blogs about motherhood at Steady Mom
After a decade of use and about a year of saving, Steve and I finally entered the 21st century a few weeks ago when we purchased a new widescreen television and got rid of our old tube model–the one my nana bought for us right after Jonathan (now 10) was born!
This purchase was both exciting and overwhelming. We knew we could stream our Netflix membership and Amazon Prime account to the set, but with Apple TV we can also stream other channels–many of which we would not normally watch. (This is even without having cable!)
Our kids, who generally choose one show each on Saturdays and Sundays, were clamoring at their newfound options. And I knew I needed to undertake a tv research project to sort it all out and make sure we use our new screen intentionally.
I asked on my Facebook page about your favorite shows for the 8-12 age range, then went through the responses one by one. After two weeks I've finally finished this undertaking for our family, and I hope you'll find it helpful for yours, too.
In the list below I've included shows that can be found on Amazon Prime, Discovery Education Streaming, and Netflix.

Our living room armoire, where the tv "lives" behind closed doors except for when in use
On ratings
I've found determining what is age appropriate for my children much easier since I discovered Common Sense Media. They give ratings and full reviews on most movies, television shows, music, websites, apps, video games, and more.
I rarely watch a movie now without going to their reviews first. Many can also be found directly on Netflix's site. They even list any objectionable scenes so you can decide for yourself if a film/show is right for your family. (I have found, though, that sometimes I need to add a year or two to their suggested ages.)
If a show on the list below has a Common Sense Media rating, I've included it as "CSM" and then the recommended age. For shows that don't have a CSM rating, I've tried to include their designated TV rating where possible.
Here's an overview of standard TV ratings (find more details here):
TV-Y: children of all ages, including young ones 2-6
TV-7: age seven and up
TV-G: program may not have been made exclusively for children, but seems appropriate for most ages
TV-PG: unsuitable for younger children
TV-14: unsuitable for children under age 14
TV-MA: not designed for children (equivalent to R movie rating)
For this list I've stuck with programs that are TV-PG or, in most cases, below. I also want to mention that I have not viewed all the shows here, so use this as a resource to determine what is right for your own unique family.
And now, on to the list!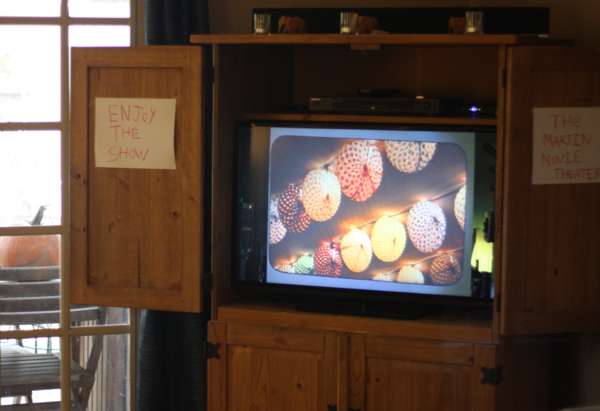 The kids watching Annedroids via Amazon Prime
I mentioned this resource in my curriculum post a couple of weeks ago. We tend to watch from this option during our weekday viewing, since the shows add to our education–saving other programs for the weekend or evening.
We often stream Discovery Ed directly to my laptop when we're all gathered around the dining table after lunch, but now with our fancy Apple TV, we can actually stream to the new television.
I can't link to these shows on Discovery Ed directly, so where possible I'm linking to Amazon in case you'd like to check out a description. For a full list of Discovery Ed Streaming programming, head here.
Jonathan made signs in honor of the new television
Netflix Streaming
Happy intentional viewing!
*********
If you enjoyed this post, check out Jamie's new book, Introverted Mom: Your Guide to More Calm, Less Guilt, and Quiet Joy.
Further reading:
Any shows you would add to this list for ages 8-12? Please let us know in the comments!
Originally published on October 13, 2014. I've done my best to update the list with new show discoveries we've made in the past year!
What's Your Homeschool Mom Personality? Take Jamie's quiz now and receive a free personality report to help you organize your homeschool based on what your personality type needs most!